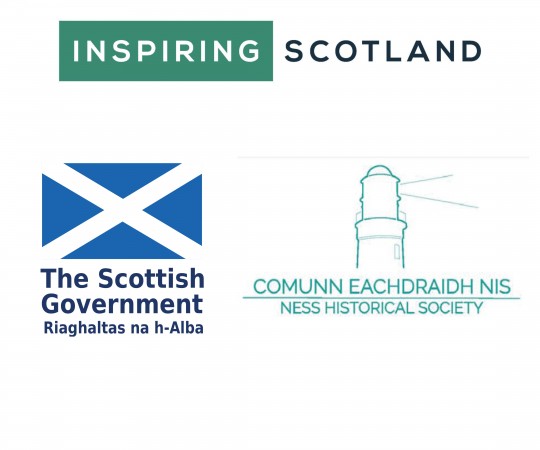 Inspiring Scotland's Island Communities grant
The directors, staff and volunteers at Comunn Eachdraidh Nis are delighted to have been awarded a grant from Inspiring Scotland's Island Communities Fund. The grant of £56,411.75 will enable us to install an air source heat pump and underfloor heating in the café and meeting space, currently fitted with electric heaters which are costly to run. Inefficient windows will be replaced and additional loft insulation fitted to make the building as energy efficient as possible.
This renewables project is an integral part of the wider redevelopment of the centre. All other areas of the building have been redeveloped and are now heated by renewable heating sources. This remaining section of the building has been identified as the cause of excessive electricity costs and requires urgent upgrading. Loss of income during the pandemic has depleted the charity's financial reserves, highlighting the urgent need to reduce running costs in order to secure the long-term future of the organisation and the jobs and community it supports.
Since relocating in 2011, the services delivered by CEN have expanded to accommodate the needs of the community. It has developed into a dynamic social enterprise, providing vital services to socially isolated groups and providing much needed employment in the area.

CEN contributes towards the aspirations within Urras Oighreachd Ghabhsainn's 2017-37 Strategic Plan for the Galson Estate, impacting on the following priorities: Developing Skills; Improving Health; Relieving Poverty; Engaging citizens to become more active in the community; Promoting and protecting the rich culture and heritage of the area; Developing, revitalising and growing industry sectors.
This work will commence in January 2021 so the café will be closed to the public throughout the months of January and February 2021.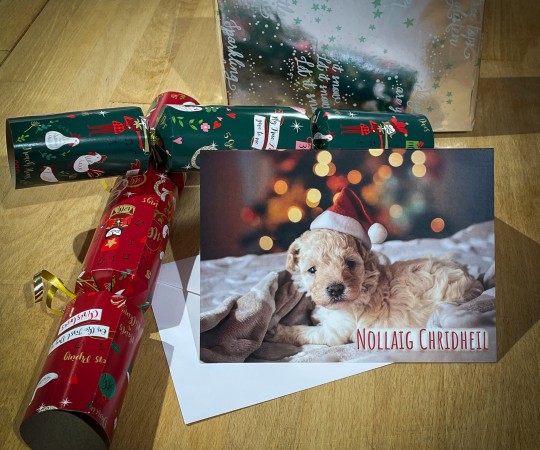 Gàidhlig Christmas Cards
Our limited run of Gaelic Christmas Cards are now available in the shop.
Designed in house, and printed on the Isle of Lewis by Stornoway Media Centre we hope you enjoy sending these festive cards to your loved ones this Christmas!
View here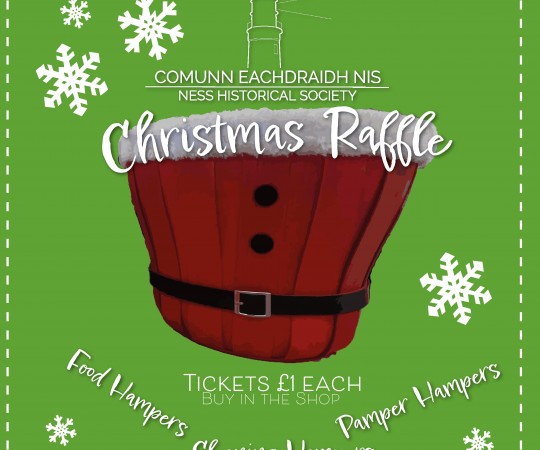 Christmas Hamper Raffle
Some of the Christmas Hampers for the raffle are now on display around the building and tickets can be purchased in the Gift Shop.
This year we have a range of pamper hampers, cleaning hampers and food hampers up for grabs plus a dew extra goodies.
The draw is due to take place during our second Late Night Christmas Shopping event on Thursday 2nd December.
As always, thank you to everyone who has donated towards the prizes!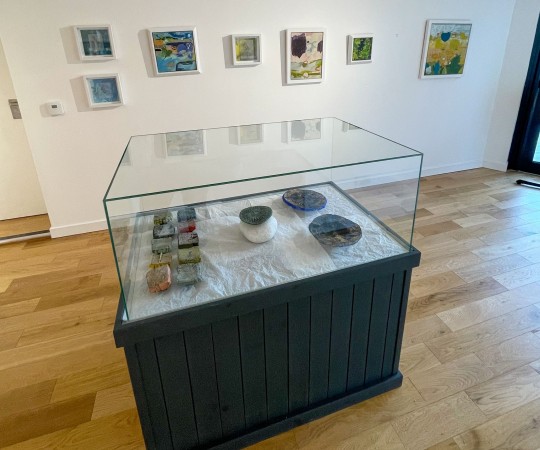 New exhibition: Eadar Talamh is Tìr
Màiri NicGillìosa is a Gaelic visual artist. In Màiri's arts practice, Gàidhlig forms a key part of the aperture through which she experiences the world.
Sandra Kennedy is an artist who explores connection to landscape. All senses are active in absorbing the surface sensations of place and detail.
Their work is a response to their different areas of Lewis - West and East side. Their shared source has been their love for their villages, kinships to their habitats. Patterns of crofts and echoes of their landscapes are explored through mixed media drawings, sculpture and painting.
Eadar Talamh is Tìr is open Monday to Friday 10am - 4.30pm until the New Year.